Digitize System 3505 Universal Alarm System
A System 3505 installation brings unparalleled  level of efficiency, flexibility, ease of use, and dependability to proprietary alarm monitoring.  It brings operators complete systems integration and budget-pampering operating costs. The Digitize System 3505 keeps constant watch on proprietary fire and security alarms … accepts input from virtually any remote alarm device or combination of devices … issues alerts … identifies sources … prompts the most effective response. And it is equally vigilant in controlling building management functions, from access control systems to HVAC, from power generation to environmental hazard detection.
Using any – or all – of these System 3505 features, makes the System 3505 true cost-effective interoperability a reality.  The Digitize System 3505  is the fire and  security industry's most advanced alarm monitoring system, with dramatically enlarged display screen and information-rich, high visibility graphics.  A Windows® -based Computer Graphics Response and Management System (CGRMS™) can remotely deliver zone-specific information on any event.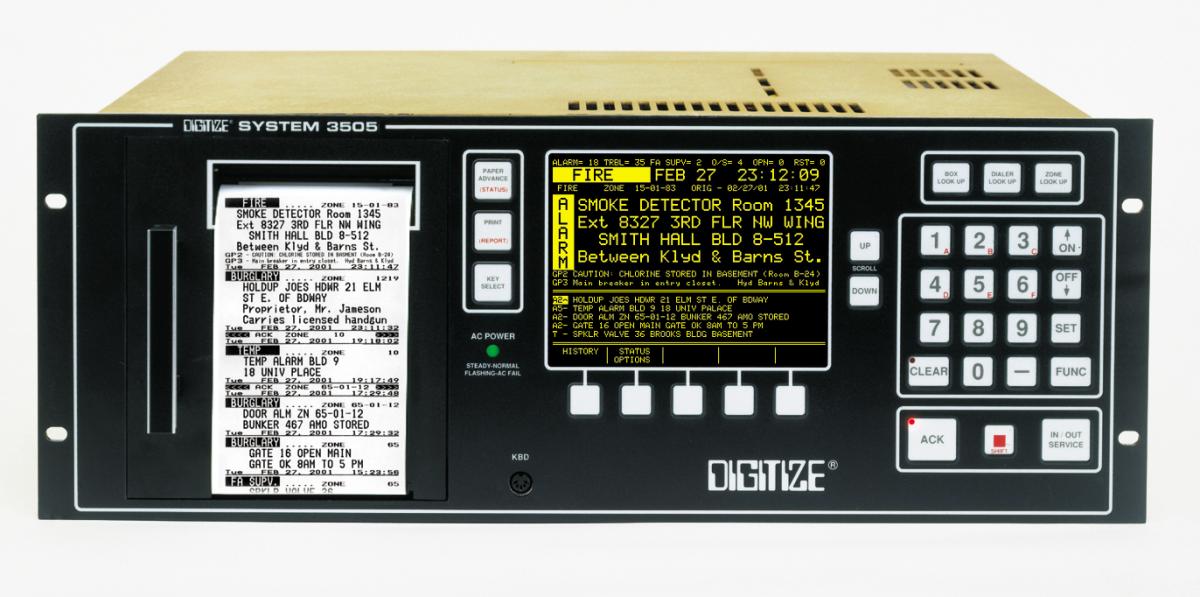 Win3505TM CPU-7 Utility program for Windows provides the capability to upload/download System 3505 operating programs and edit, save and print user text messages. In addition, the software allows the entire System 3505 setup to be saved and duplicated, eliminating the possibility of data reentry errors. Software shipped personalized with client's name.
The proprietary Q-MuxTM Point Identification System for simplified, fully programmable two-wire multiplexing.

A unique "Flash Memory" that permits program updates or customizing via program updates.

Networking – The System 3505 is fully networkable up to 99 System 3505 units.

LOCATION
121 Independence Ln.
Chalfont, PA 18914
OFFICE Hours
M-F: 8:00 am – 5:00 pm