DD1-11E Digital Dial Input DACR

he DDI-11E is a dual line external Digitial Alarm Communicator Reciever (DACR) module capable of processing Contact ID and other formated account information. Only one DDI-11E may be connected to a System 3505 Prism LX.
The Digital Dialer interface option allows the System 3505 Prism LX to receive alarms through the dial up telephone network. The dialer option software provides conversion of coded information from the receiver into the proper format for processing by the System 3505 Prism LX.. Additionally the DDI Option has the capability to receive 1600  Digital Alarm Communicator Transmitters (DACTs) and provide on-demand or scheduled Daily Exception Test Reports on all existing and future DACT's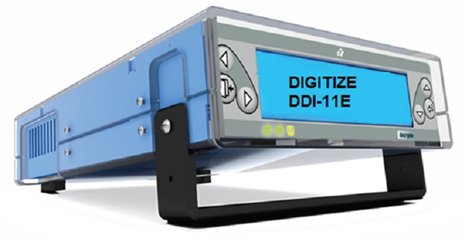 The DDI-11E has a new design with a graphic LCD that allows users to see all key status at a glance.  Events memory has been expanded to 4,095 events, with fast scroll on the screen dispaly.
The DDI-11E is a dual-line external DACR module (P/N 425196-0005 and 425196-0002) that will accept any pulsed dialer rate from 10 to 40 (37) PPS using the 3-1, 3-1 extended, 4-1, 4-1 extended formats. See below for a complete listing.
The DDI-11E replaces the DDI-10E, which is no longer available.  The DDI-11E requires the latest System 3505/System 3505 Prism LX  with 9th Edition requirements and an August 2012 or later software release.
2 to 244 SLCs each supporting 159 sensors, 159 modules and 159 addressable sounder bases (In Styles 4, 6, or 7*)
625K baud ARCNET communications using wire, fiber, or mixed configurations for installation flexibility
High-speed 32 bit processor and 8100 event history log
Advanced Boolean logic-based programming such as AND, OR, NOT, time delay and calendar functions configurable via computer programming
Supports up to (16), ASM-16 addressable switch or ANU-48 LED driver modules per ILI-MB-E3/ILI95-MB-E3
Two Class A, Style Z or Class B, Style Y, notification appliance circuits rated at 2.0 amps. per circuit
Integral city connection
Flexible 115,200 baud high speed RS-232 interface
40 character user-defined text per device
15 LCD-SLP displays/annunciators, 6 LCD-E3 displays/annunciators, 5 LCD-7100/RAN-7100 remote LED annunciators per ILI-MB-E3/ILI95-MB-E3
UL Listed for smoke control (dedicated and non-dedicated) when properly configured
FM/UL Listed for Pre-action/Deluge use

LOCATION
121 Independence Ln.
Chalfont, PA 18914
OFFICE Hours
M-F: 8:00 am – 5:00 pm