The SK-5208 is a microprocessor based control panel with integrated UL listed communicator designed for applications requiring smoke detection, manual pull stations, and sprinkler supervision. It features an easy to read LCD display with programmable English readout and user friendly tactile keys. The basic unit offers 10 zones of initiation and is expandable up to 30 zones for larger applications. The SK-5208 has a complete line of supervised accessories that provide remote annunciation and auxiliary relay expansion. Ideal for new and retrofit applications.
10 built-in zones expandable to 30
Supervised zone expanders and I/O modules can be mounted remotely from the main control
All zones are compatible with listed 2- or 4-wire smoke detectors
Built-in digital communicator/dialer
Four Notification Appliance Circuits
Four programmable general purpose relays
Programmable from the built-in control panel touchpad, remote annunciator or SKSS 5660 downloading software
Plex door option combines a dead front cabinet door with a clear window limiting access to the panel while providing single button operation of the reset and silence functions
Built-in digital communicator/dialer
Built-in synchronization for AMSECO®, Gentex®, Faraday, System Sensor® and Wheelock®
SK-5235 Remote LCD Annunciator
SK-5217 Ten Zone Expander (2 max.)
SK-5280 Status Display Module (8 max.)
5824 Serial/Parallel Printer Interface Module
5220 Direct Connect Module
PLEX-2 Dead Front Door Option
SK-SCK Seismic Compliance Kit
RBB Remote Battery Box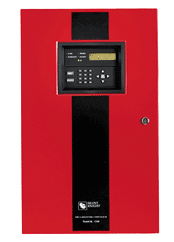 LOCATION
121 Independence Ln.
Chalfont, PA 18914
OFFICE Hours
M-F: 8:00 am – 5:00 pm