Honeywell S3 Series Panel
The new S3 Series™ from Gamewell-FCI applies touch-screen technology for an intuitive approach to fire alarm control and programming. No longer the need for rows of buttons and puzzling switches, our touch-screen menu offers clear concise system operations; removing dangerous confusion during an emergency fire event.
Designed for protecting lives, straightforward interaction with the first responders and facility management is critical. The S3 Series™ fire alarm control panel provides a unique user experience – simpler than any other product in its class.
4.3 inch High-resolution color touchscreen display
5 Custom function buttons for simple system control
Automatic NAC electronic end-of-line resistor sensing
Networkable up to 122 panels
Add voice/ECS with E3 Series® integration
Simple retrofit upgrade from legacy FCI 7100 and Gamewell 602/610 panels
Unique hazard LED for non-fire events like carbon monoxide or gas
Built-in Ethernet port for programming, monitoring, and diagnostics
The S3 Fire Alarm Control Panel is a simple, smart solution for small to mid-sized fire alarm applications. Scalable to grow with your building, the S3 can start with a basic one loop standalone panel to a network of 122 panels with integrated voice. Typical applications for the S3, are where the fire alarm panel is located in front of the public and needs to be simple to use, such as:
K-12 schools
Retail space
Office campuses
Healthcare offices
Small hospitality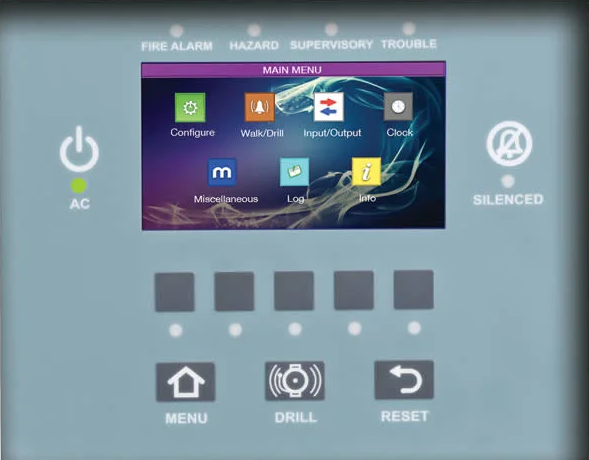 LOCATION
121 Independence Ln.
Chalfont, PA 18914
OFFICE Hours
M-F: 8:00 am – 5:00 pm