The Gamewell-FCI, FocalPoint® Graphic Workstation is a IP-based graphic user interface that connects to the 7100, E3 Series® or S3 Series of fire alarm control panels via the Gateway interface. The Workstation is used as a decision support tool by facilities management and security personnel.This workstation uses graphic images to display information that allows personnel to quickly evaluate the emergency and make prompt and informed decisions.
Listed under UL® Standard 864, 9th Edition.
Offers a flexible remote control. Using the workstation with the following systems, the Acknowledge, Reset and Silence fire alarm functions can be activated via remote control.

E3 Series
S3 Series
7100 Series

User-Friendly System Setup – Import facility floor plans as Windows® graphic bitmaps or Windows® graphic meta files.
Secure Access – Security profiles provide multiple levels of access to different user types.
Improved System Maintenance – Reports and logs trouble events.
Automatic Screen Navigation -(selectable for each device) that locates and zooms to the device related to an alarm or event, based on the priority of the event.
Backup capability – System backups for screen, user, or history databases. All software is backed up on CD-RW.
Information Labels – Identify Hazardous Material (HAZMAT) and handicapped accessible areas using fully linked multimedia.
Includes an optional touchscreen display to be used as a simple, intuitive interface.
FPT-GATE-3 FocalPoint Gateway includes gateway, surge suppressor (PNET-1), cables and cabinet.
FPT-WKS FocalPoint graphical user interface software for network annunciation. Workstation UL Listed PC included. (UL Version).
FPT FocalPoint graphical user interface software for network annunciation. Workstation PC not included. (non-UL Version).
ANX-SR Addressable Node Expander-Single Ring.
ANX-MR-FO Addressable Node Expander-Multi-Ring Twisted-Pair.
ANX-MR-UTP Addressable Node Expander-Multi-Ring Fiber-Optic.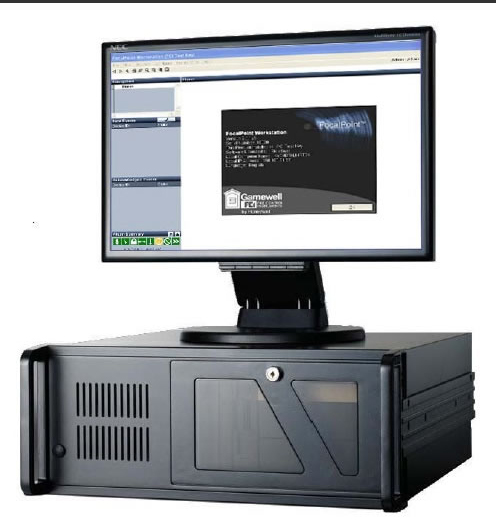 LOCATION
121 Independence Ln.
Chalfont, PA 18914
OFFICE Hours
M-F: 8:00 am – 5:00 pm