Ideal for mid-sized facilities, the Honeywell Farenhyt Series Black IFP-300 ECS combines an intelligent analog/addressable fire alarm control panel with an emergency communications system into a single enclosure. Designed with flexibility in mind, the IFP-300 ECS can be expanded up to 300 points per panel and provides a choice in color, distributor and service contractor.
Single enclosure for both Fire and Emergency Control System components
Can select ECS message as priority over fire
Network support for up to 32 Sites
Built-in support for up to 159 IDP/SK detectors and 159 IDP/SK modules or 127 SD SLC devices
Four line LCD display with 40 characters per line
On-board supervised microphone
Available in a red or black cabinet
Separate network support for voice paging
Built-in USB interface for programming
Built-in dual phone line, digital alarm communicator/ transmitter (DACT), IP or optional cellular technologies
JumpStart AutoProgramming® feature for easy programming • Capable of producing 520 Hz tones to meet NFPA 72 requirements
15 Recordable one minute messages that can be mapped to eight ECS buttons
Firmware can be upgraded in the field
Supports up to four SWIFT wireless gateways. Each gateway can have up to 49 wireless devices
Support for up to eight SBUS addressable amplifiers using a combination of ECS-50W, ECS-125W, ECS-INT50W or ECS-DUAL50W for a maximum of 1000 watts per system
Supports up to seven ECS-LOC'sSingle enclosure for both Fire and Emergency Control System components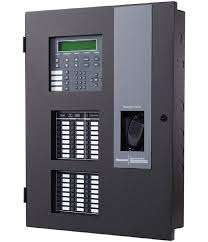 LOCATION
121 Independence Ln.
Chalfont, PA 18914
OFFICE Hours
M-F: 8:00 am – 5:00 pm